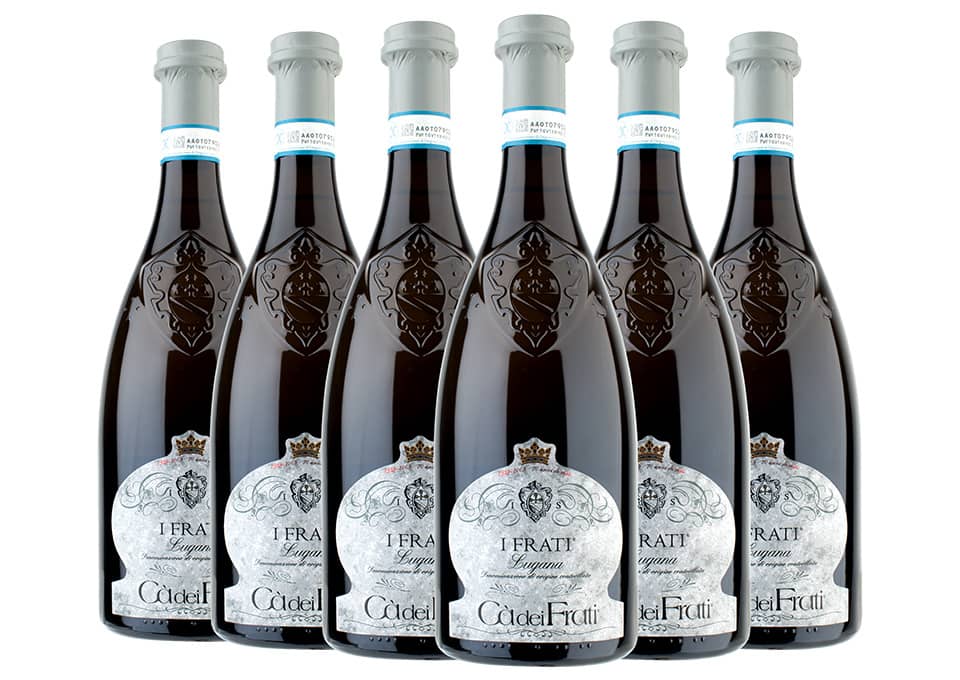 full name
Lugana DOC I Frati 2021 Ca' dei Frati
grape
Trebbiano di Lugana 100%
aromas
Apricot, White flowers, Candied fruit, Almond, Balsamic notes, Spices
Sulfites
Contains sulfites
Lugana DOC I Frati 2021 Ca' dei Frati
per box (6x0,75 ℓ)
15,87
€/ℓ
Incl. VAT and taxes
Free shipping
This product gives you free shipping.
Limited availability: max. 6 per client
Ideal with
Starters, Fish
Availability
Immediate availability
Order in
12 hours and 54 minutes
to receive it by:
Tuesday, October 11th with priority shipping.
Wednesday, October 12th with standard shipping.
Description
BWW 2022 - Best Italy Wine Critic of the World
Luca Gardini
Turbiana (or Trebbiano di Lugana) in purity, nose of yellow plum and aromatic herbs, with a touch of hawthorn in the background, crunchy mouth, with beautiful persistence and an excellent flavor finish.
Lugana I Frati di Cà dei Frati is born in vineyards located on the southern shore of Lake Garda, in Lombardy, and is the symbolic wine of the company, which has made it known throughout Italy.
It is produced with 100% Turbiana (Trebbiano di Lugana) grapes, a great native grape variety. The vinification takes place in steel, then the wine is aged in steel on fine lees for a period of about 6 months, followed by a further 2 months in the bottle.
Lugana I Frati is a wine with a beautiful straw yellow color. Fresh and linear, it has fine and elegant notes of white flowers enriched by balsamic nuances, hints of apricot and pleasant shades of almond; over time it evolves, expressing strong mineral notes and complex aromas of spices and candied fruit. On the palate it is enveloping and particularly savory, balanced by a lively and exuberant acidity.
Perfect to accompany cold or warm appetizers with delicate flavors, it is perfect in combination with fish-based dishes, both steamed and grilled.
other recommendations
You may also be interested in