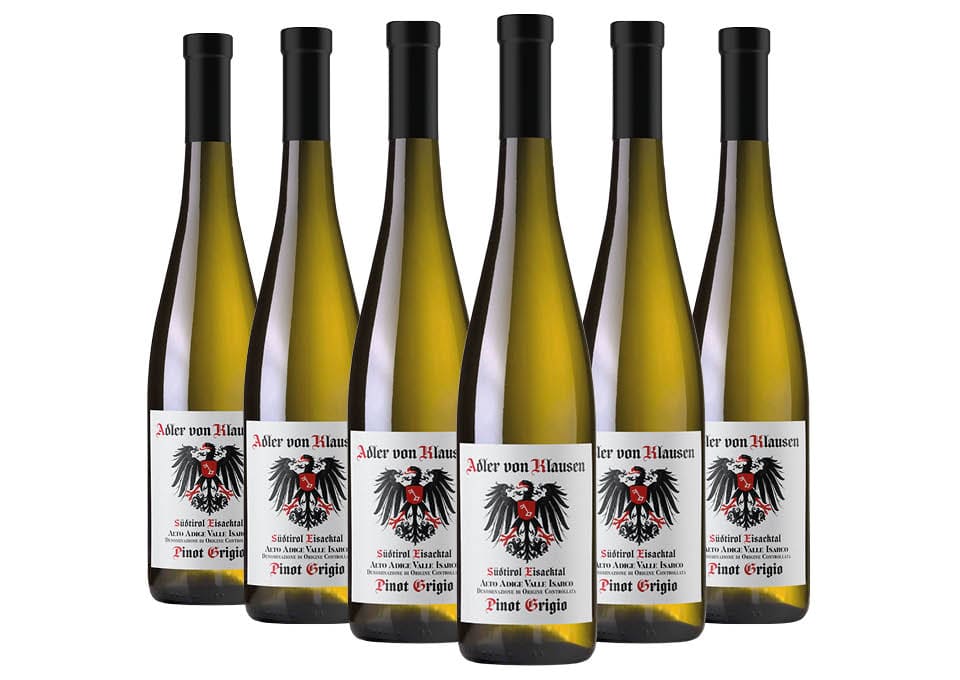 awards
other vintages awards
full name
Südtirol - Alto Adige Valle Isarco DOC Pinot Grigio 2021 Adler von Klausen
aromas
Almond, Yellow apple
Sulfites
Contains sulfites
Südtirol - Alto Adige Valle Isarco DOC Pinot Grigio 2021 Adler von Klausen
per box (6x0,75 ℓ)
16.93
€/ℓ
Incl. VAT and taxes
Free shipping
This product gives you free shipping.
Origin
Italy, South Tyrol
Ideal with
Fish, Aperitifs, White meat, Starters, First courses
Availability
In stock
Order within 8 hours and 22 minutes for delivery by Friday, June 9th.
Description
BWW 2022 - Best Italy Wine Critic of the World
Luca Gardini
A pleasant Pinot Grigio. Yellow plum on the nose, with notes of lime and cedar, with a balsamic and slightly almond finish. In the mouth iodized-brackish, with a fruity-almond return.
Adler von Klausen's Pinot Grigio was born in the cool Isarco Valley, one of the northernmost valleys of South Tyrol, on the border with Austria.
It is produced exclusively with Pinot Grigio grapes, locally called Ruländer, harvested only by hand. After a soft pressing, the grapes ferment in stainless steel tanks on the noble lees at a controlled temperature.
It shows a bright golden yellow color. The nose opens with an elegant bouquet of fresh fruit, golden apples with pleasant notes of bitter almond. On the palate it is harmonious, with a full body and a pleasantly balanced acidity.
Excellent as an aperitif, it goes perfectly with appetizers, first courses, fish and white meats.
other recommendations
You may also be interested in