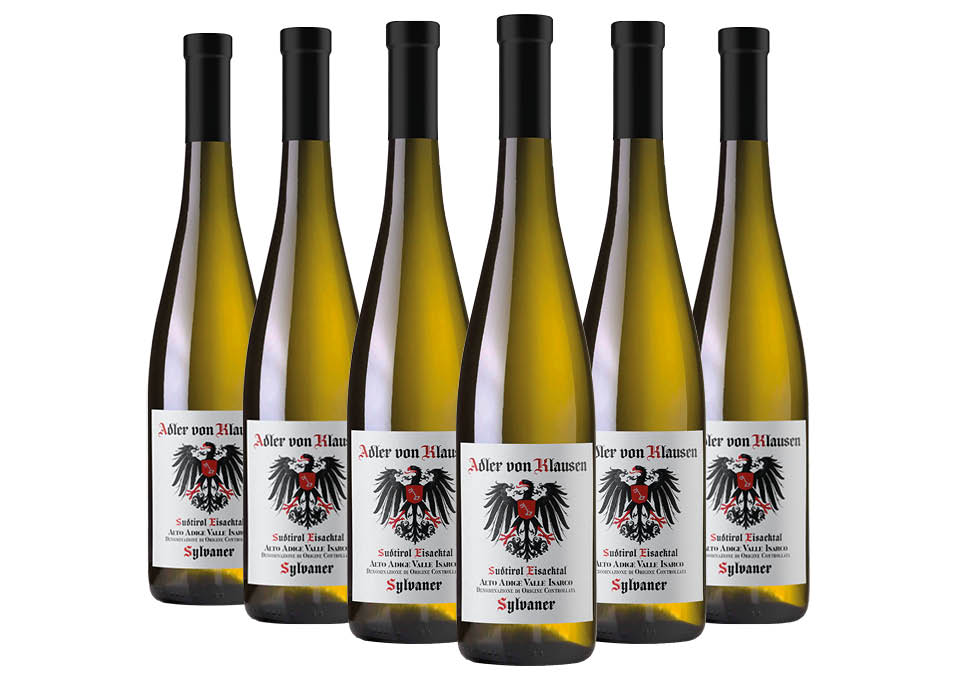 awards
other vintages awards
full name
Südtirol - Alto Adige Valle Isarco DOC Sylvaner 2021 Adler von Klausen
aromas
Apricot, Apple, Peach
Sulfites
Contains sulfites
Südtirol - Alto Adige Valle Isarco DOC Sylvaner 2021 Adler von Klausen
per box (6x0,75 ℓ)
12,67
€/ℓ
Incl. VAT and taxes
Origin
Italy, South Tyrol
Ideal with
Starters, Aperitifs, Fish, Vegetables
Availability
In stock
Order within 8 hours and 31 minutes for delivery by Friday, March 24th.
Description
BWW 2022 - Best Italy Wine Critic of the World
Luca Gardini
Successful interpretation of Sylvaner that has touches of lemon and green apple on the nose, with clear nuances of freshly cut grass at the end of smell. Mouthful of beautiful tension and acidity, with citrus finish.
Pure Sylvaner grapes, Adler Sylvaner comes to life in the charming town of Klausen, Chiusa, in the province of Bolzano, in the magical Valle Isarco, the beating heart of South Tyrol, a terroir traditionally extremely suited to viticulture. Adler von Klausen, literally, "Chiusa's eagle", is the symbol of the cellar that also stands out on the label and depicts the eagle, an animal that in symbolism represents cosmic power, absolute freedom and, therefore, life. In the same way, the wine is imposing, austere and elegant. The Sylvaner vines have been cultivated for over a century in the Isarco Valley and represent the most peculiar and characteristic of the grape varieties of this valley. After processing and soft pressing of the grapes, fermentation takes place at controlled temperature and maturation on noble lees in stainless steel tanks.
The color changes in the glass as in a palette, with chromatic variations that fade from greenish to pale yellow. The nose is all played on fresh and fruity notes, with hints of peach, apple and apricot. On the palate it is dry, pleasantly aromatic and fresh, with a harmonious body.
Perfect to accompany appetizers and appetizers, it is ideal in combination with vegetables and fish dishes.
other recommendations
You may also be interested in