Sicilia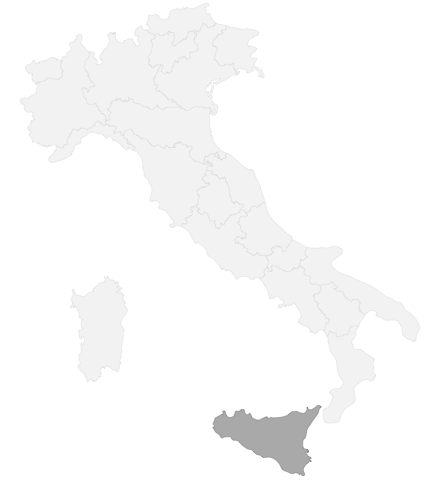 Sicily is a happy island for wine: from the slopes of Etna to the coasts of Cerasuolo, to the small islands of Salina and Pantelleria, each area has its own grape variety and style, with wines so different that sometimes they seem to come from different continents, obtained both from native grapes such as Grillo , Carricante and Frappato , and from great international vines that have found a small paradise on the island, such as Chardonnay . Viticulture in this region has ancient origins, suspended between the legend that tells of a thirsty Dionysus, from whose tears the first vine was born, and the history that documents the arrival of the Greeks, and before them even the Phoenicians, with the first rooted cuttings.
Character and uniqueness of Sicilian red wines.
The slopes of Etna certainly represent one of the most suitable areas for viticulture in Sicily, with excellent results for Sicilian red wine, which here takes on an almost alpine elegance. Here the extreme conditions such as the volcanic soil, the slope of the land and the altitude of the vineyards make viticulture heroic and there are few indigenous vines, such as Nerello Mascalese and Nerello Cappuccio. Sicily, however, has many other interesting denominations as regards red wines: in addition to Etna Doc we find in fact, next to the very small Doc Eloro, which preserves rare native vines such as Perricone and Pignatello, the Contessa Entellina denomination, cradle of cult Sicilian reds , such as Mille e Una Notte, obtained from Nero d'Avola or from international Cabernet and Merlot grapes . Not to be forgotten is Cerasuolo di Vittoria, in south-eastern Sicily, the only DOCG in the region and an admirable blend of Nero d'Avola and Frappato.
Sicilian white wine: dry or sweet, it is however a masterpiece.
Carricante, Grillo, Chardonnay, Malvasia : Sicily is not only the home of great red wines but also of intense and fragrant whites and sweet wines to make you lose your mind. From the aromatic grapes of Chardonnay are born Sicilian white wines for aging in Doc Melfi and Alcamo, able to compete with the great wines of Burgundy , while Moscato , Zibibbo and Malvasia give life to fresh and exciting wines in Salina and on the Sicilian coasts, which become splendid sweet passito wines in Pantelleria, Lipari and Noto. The results of heroic viticulture on Etna are also exceptional, where the whites obtained from Carricante grapes stand out for their minerality and longevity. Last but not least, Marsala, born mainly from white grapes and historical wine of the island of Sicily.
What is the finest Sicilian wine?
It is difficult to answer this question, because Sicily has a wine production equal to that of Veneto and Tuscany , certainly we cannot fail to mention among the red wines the Mille e Una Notte by Donnafugata and the Harmonium by Firriato among the red wines and Planeta's Chardonnay among whites. However, there are other wineries that produce excellent wines such as Tasca d'Almerita and Duca di Salaparuta, Li Ciuri and Cusumano, Palmento Costanzo and Nicosia just to name a few. Finally, among the big names in sweet wines, we cannot forget the Marsala di Florio and the sweet wines of Donnafugata.
What is the oldest sweet Sicilian wine?
Marsala is undoubtedly one of the oldest sweet wines in Sicily: as early as 1832 Vincenzo Florio, a native of Bagnara Calabra, exported this sweet wine to over 99 countries around the world.
What is the best match for a white Sicilian wine?
The Sicilian white wines, with their characteristic intensity that unites them all, the minerality that characterizes those of Etna and the savory notes typical of those born on the islands are perfect in combination with all fish dishes rich in taste, from dishes with sardines up to pasta with swordfish, passing through fish soups and cous cous up to stuffed squid and sweet and sour tuna and aubergine caponata.