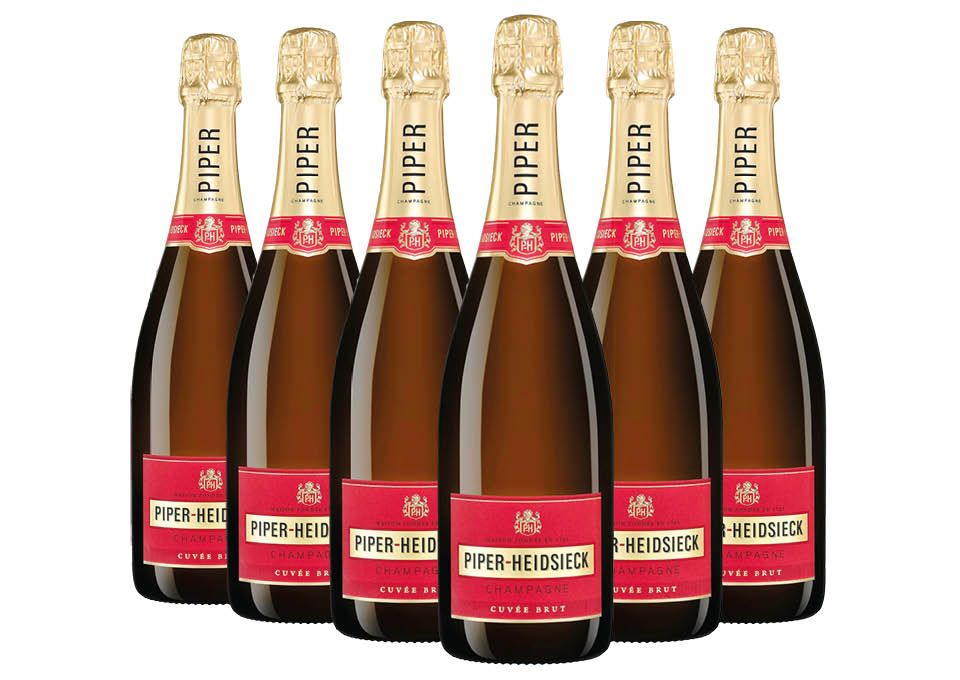 (*) This product is not available for shipping to Netherlands
full name
Champagne AOC Cuvée Brut Piper-Heidsieck
grape
Chardonnay, Pinot Meunier, Pinot Noir
aromas
Citrus, Almond, Apple, Hazelnut, Pear
Sulfites
Contains sulfites
Champagne AOC Cuvée Brut Piper-Heidsieck
6 bottles of 0,75 ℓ, Gift box
per box (6x0,75 ℓ)
47.60
€/ℓ
incl. VAT and taxes
Free shipping
This product gives you free shipping.
Ideal with
Fresh cheeses, Aperitifs, Shellfish, Molluscs
Availability
In stock
Order now to receive it by Wednesday, September 27th.
Description
The Champagne Cuvée Brut of Piper-Heidsieck is the result of the union of the classic vines of the Champagne blend, mainly composed of Pinot Noir grapes from over 100 crus distributed in the appellation, and Pinot Meunier from the Grande and Petit Montagne de Reims. The cuvée is completed with a good percentage of reserve wines. Maturation lasts on the lees for at least 24 months.
At the sight of a bright straw yellow color tending towards golden, with a lively and persistent perlage. It opens to the nose with aromas of fresh hazelnut and almond, accompanied by soft and clear hints of pear and apple, with hints of citrus to complete the picture. In the mouth, it reveals intense and vibrant, characterized by an unforgettable freshness.
Excellent as an aperitif, it accompanies magnificently dishes based on oysters and crustaceans. Try it with fresh cheeses.
other recommendations
You may also be interested in