Veneto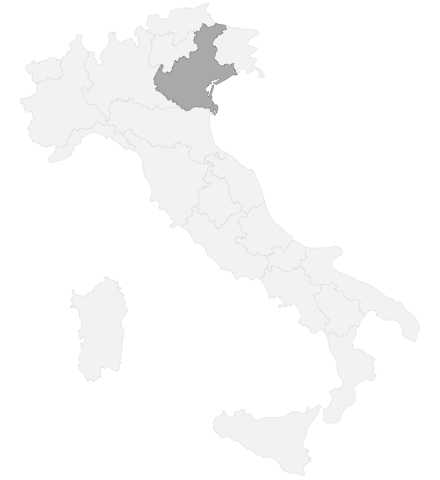 Veneto is a land of ancient winemaking traditions, which today boasts the primacy in Italy for the production of DOC wines. The wine production of the region is qualified not only through the widest and most varied panorama of vineyards and wines, from whites to reds, from sparkling wines to passito, but also thanks to a strong vocation for quality, with as many as 14 DOCG wines, 28 DOC wines and 10 IGT wines.
Much of the Veneto, due to its climatic and morphological characteristics, is an area where excellent grapes are grown; viticulture is practiced both in the flat area, very rich in streams, and on the hills, which have a mild climate and fertile soils. With its 78,200 hectares of vineyards it is certainly one of the most interesting regions, especially for the variety of wines produced there, from the great reds of Valpolicella such as Amarone and Ripasso, to the fragrant and intense whites such as Soave and Lugana (denomination that it shares with the Lombardia) to Prosecco in its various variations, from Asolo DOCG to Cartizze .
Venetian red wine
Venetian red wine is known all over the world thanks to Amarone della Valpolicella . This red wine obtained from grapes subjected to drying ranks among the great Italian reds, and due to its characteristics of longevity and structure it is often one of the most coveted wines by collectors. In Valpolicella, however, there is also Valpolicella ripasso (obtained by resting on the lees of Amarone), and classic and superior Valpolicella. Not far away, we find Bardolino , more fruity and easy to drink, especially loved across the border. In Veneto there are also non-native grapes, such as on the Berici Hills, where Cabernet Sauvignon and Merlot are at home, alongside the curious local grape Tocai Rosso, similar to Cannonau or Grenache . Finally, interesting results are obtained from the Carmenere grape and above all from the Raboso, which gives life to an excellent red wine and a noteworthy passito.
Veneto white wine
Veneto white wine has been successful thanks to the Lugana denomination (in common with Lombardy), an excellent white wine with complex aromas, which is also interesting for aging. The Soave and Gambellara appellation was also of great importance, in which white wines have made famous producers such as Pieropan. Among the white vines of interest there are undoubtedly the Vespaiola, with which the Torcolato di Breganze passito wine is produced, but also the yellow Moscato, which in the Euganean Hills originates the Moscato Fiori d'Arancio DOCG, a sweet sparkling wine with greedy aromas. However, white wine in Veneto means above all Glera , with a growing production of Prosecco, which recently saw the release of the new Prosecco rosé, born from Glera and Pinot Nero.
What is the best Venetian red wine?
Amarone della Valpolicella is undoubtedly the best Venetian red wine, and ranks among the best Italian wines thanks to its longevity, which allows it to age in the cellar for up to 20 or 30 years like Barolo and Brunello.
What is the best match for Veneto white wine?
Veneto white wine is rich in aromas and normally does not have much acidity, which is why it is suitable for pairing with river fish but also with egg-based dishes or enriched with sauces with aromatic herbs and bechamel. Try for example to combine Soave with pasta alla carbonara or Lugana with trout alla mugnaia, it will be a success!
Which are the most famous wine producers in Veneto?
The most famous wine producers of Veneto are undoubtedly those of Valpolicella, such as Quintarelli, Masi, Bertani, but also Tommasi, Dal Forno and Allegrini. However, there are also prominent names in the Soave denomination, such as Pieropan.