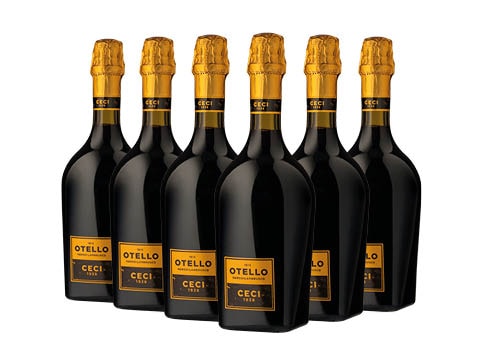 full name
Lambrusco dell'Emilia IGT Otello Nero di Lambrusco 1813 Cantine Ceci
grape
Lambrusco Maestri 100%
aromas
Strawberry, Wild berries, Raspberry, Currant, Violet
Sulfites
Contains sulfites
Lambrusco dell'Emilia IGT Otello Nero di Lambrusco 1813 Cantine Ceci
per box (6x0,75 ℓ)
11.33
€/ℓ
incl. VAT and taxes
Origin
Italy, Emilia Romagna
Ideal with
Meat ragout, Stews, Cold cuts and cured meats, First courses
Availability
In stock
Order now to receive it by Wednesday, September 27th.
Description
Otello Nero is sourced from the province of Parma, in the heart of the land of Lambrusco. The harvest takes place around the beginning of October. The grapes undergo a cold maceration process at low temperature for 5–7 days, in order to extract all the aromas and aromatic components. The wine is aged in stainless steel vats to preserve the typical fruity aroma of the grapes.
In the glass it has a purple red colour with bright ruby reflections. The bouquet is captivating, with violet notes, fresh and fragrant aromas of blackcurrant, strawberry, raspberry and small berries. The palate is pleasant, with rich fruity softness, supported by a lively acidity. The tannins are elegant and are softened on the palate by the slight sugar residue, which gives the wine a perfect balance.
It goes well with the typical dishes of the local cuisine: cold cuts and salami, first courses with meat sauce and boiled meats with a delicate flavour.
Cantine Ceci's Otello Nero di Lambrusco is a wine that has changed the image of Lambrusco in the world. It has transformed a popular and everyday wine into an absolute excellence. Ceci's research into the highest quality Lambruscos has enabled the winery to move away from the common perception of Lambrusco as a simple, pleasant and sociable wine, and to raise it to the level of the best expressions of Italian oenology. Otello Nero di Lambrusco is a label that perfectly combines the identity of a wine linked to the history of a territory, with a vision aimed at creating a Lambrusco capable of satisfying the most expert and demanding consumers. The basis of the wine is the Lambrusco Maestri, one of the varieties of the great Lambrusco family, which has been present in Emilia since time immemorial. These are indigenous vines, the result of the ancient domestication of the Vitis vinifera silvestris, already known in Roman times under the name of Labrusca. It is a grape of great personality that still preserves some of its original characteristics, especially in the presence of a particularly lively and indomitable acidity.
The Lambrusco Otello Nero has managed to combine its characteristic fruitness and freshness with the structure, aromatic complexity and depth of flavour that make it a great wine. Its dynamic and highly drinkable sip makes it extremely modern, perfectly in line with the style that is emerging in the current panorama of red wines, based more on fluency and expressive immediacy and increasingly far from the desperate search for extraction and concentration.
Among the awards won: "Grand Gold Medal" at Vinitaly 2015 and at the China Wine & Spirits Awards (CWSA), where it was also named "Sparkling Wine of the Year".
other recommendations
You may also be interested in